Are you Ready to Fill Your Cup?
Join other mermaids from around the world for four rich days of nurturing & nourishment in the gorgeous North Georgia Mountains of USA.
July 2nd & 5th 2020

Water Priestess Arts, Sensual Embodiment, Body Temple Tending, Holy Sisterhood
We are Mermaids, Wise Woman & Womb Priestesses
Throughout the ages, there have been mermaids, water medicine woman, ladies of the lake, and all aspects of Water Priestesses.
These woman are called to consciously tend the waters of life
in their bodies and in the world at holy springs, wells, rivers, lakes, oceans.
Practicing ancient water priestess arts such as baptism, anointing, hydromancy, ritual washing, dowsing, sacred song, birth & sexual mysteries.
Focusing on the water's teachings of
Divine Mother Love, Grace, Surrender, Compassion, Softness & Unity.
♥
There is a Water Priestess within us all.
Calling us to remember the way of the waters of love.
The secrets woven in waters wisdom. We will enter the timeless space between the worlds communing with the waters that have been here since the beginning of time.
The portals of potent peaceful protection.
The sanctity of sacred sensuality.
The liberation of life's liquid love story.
Come be Held in the Water and your Sister's Loving Embrace.
Let yourself be Nourished, Nurtured and your Chalice Filled.
Your Natural State is Overflowing.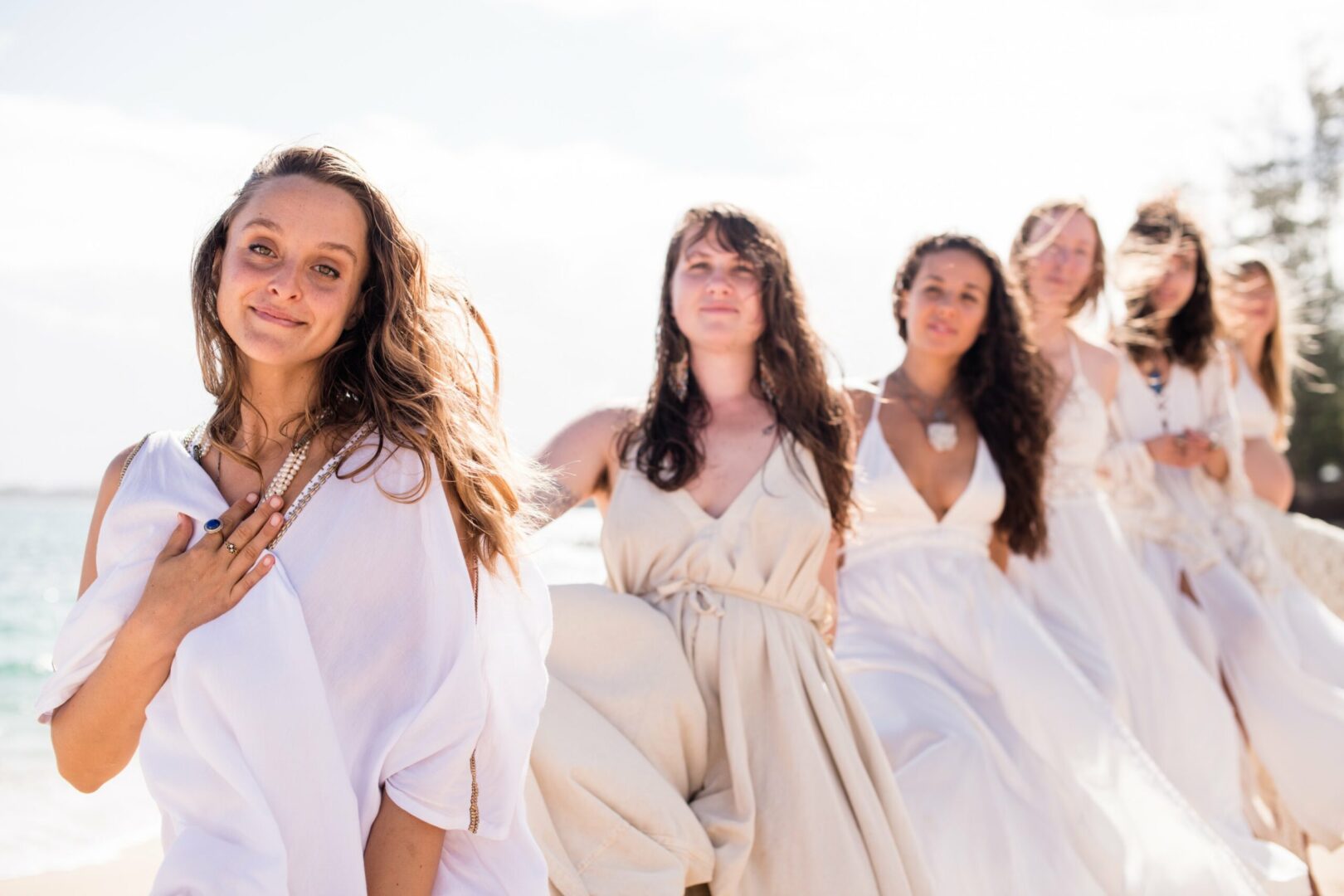 I am writing this seeing and feeling us all together in temple. The soft candle light and sweet rose petals, our hands forming a connected circle around the water altar, praying, communing, coming deeper into ourselves than ever before, filling our chalices so they pour over in graceful service.
I call to you from this future time.
The pilgrimage you committed to that changed your life.
You are 99% water at the molecular level. Water contains the akashic memories of the planet. Communing with her is your birthright.
Change the Vibration of the Waters you are made of and Change your Life.
YOU ARE THE RAINDROP.
WHAT IS YOUR RIPPLE?
The water reminds us how to connect with our feminine nature, shows us that coming alive is the most precious offering we could ever give this world, and immerses us in beauty to share what heaven on earth can feel like.
Water as Mother. Mother as Love. Love as Water.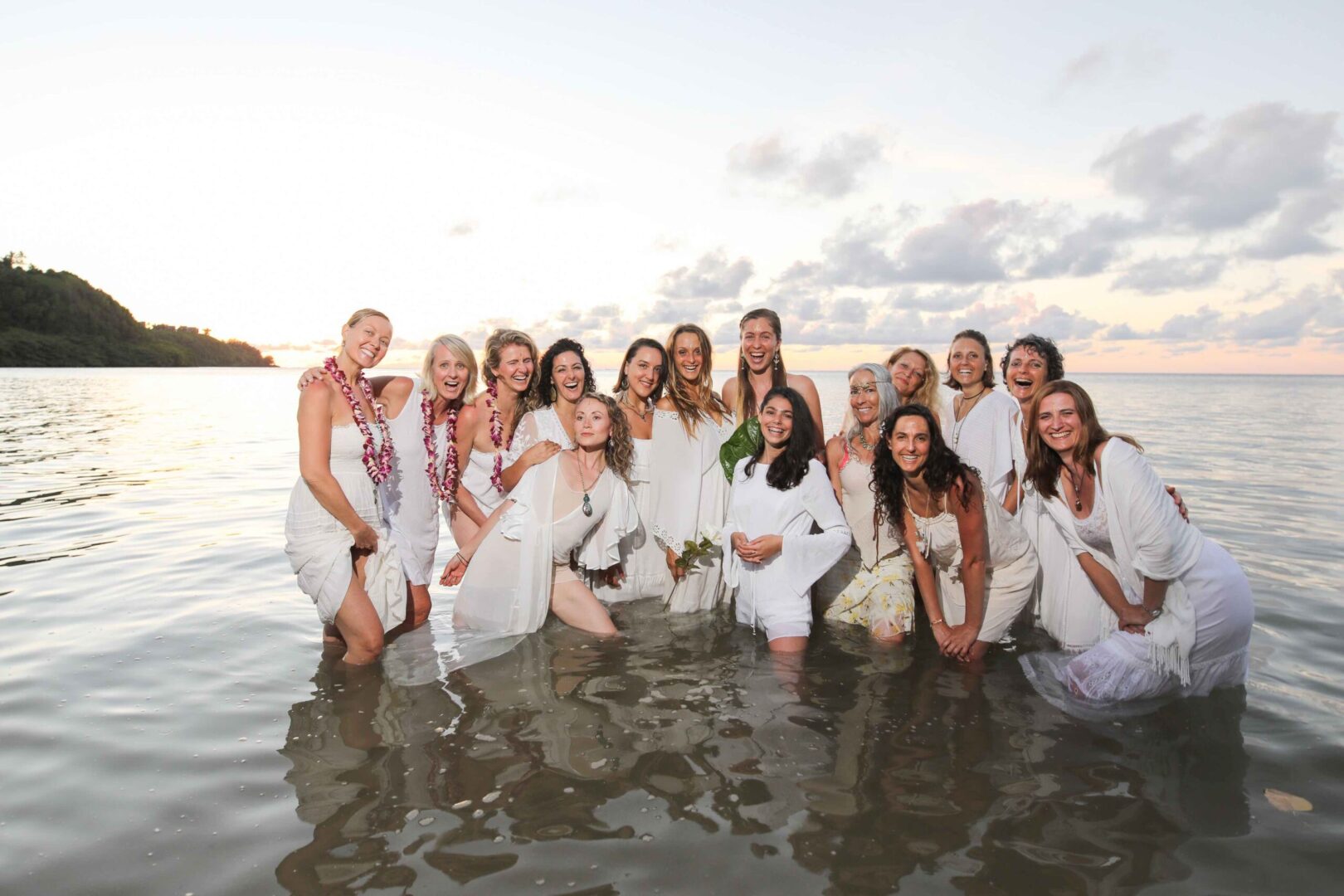 We will be communing with both opening and closing water rituals, ritual washing, water scrying, libations, water altar tending, water blessings for the land and holy water creating/anointing.
A Sensorium is a body temple tending that softens us into presence and love through the senses. There are plates of rose petals, velvet, herbs, massage oil, essential oils, water sprays, chocolate, fruit, sea shells, feathers, tea, ext. The room become magnetic with heavenly love. We drop into the space of woman as goddess. Sister as me. Body as sacred. It is a gentle and nourishing way to heal sisterhood wounds, sexual trauma, body shame, anxiety, and more.
We will have a baptism ceremony in a spring fed lake and learn how to baptize each other safely.
Baptism is far more ancient than Christianity. Variations of baptisms and water purification ceremonies have been used in pre-recorded cultures including the Temples of Isis, Aphrodite, temples in Bali, and other sites around the world. There is recorded documentation of many temple sites having permanent bathing style water structure remains. There are speculations about what they were used for, but based upon my own intuition and past life remembrance, they were for sacred ceremony including a form of "baptism" as we know it today. Water is life and used to be honored and revered at the forefront of spirituality.
Amrita orgasms are one of the most magical waters that flow from woman. I have been experiencing them for almost 15 years and educating woman about them for two years. It is one of my favorite things to teach. We will dive into the sacredness of our ecstatic oceans of pleasure. Learning the practical anatomy, tips, tricks, details and sharing our personal experiences.
We will incorporate a lot of
sound healing, singing, prayer & vibrational medicine
throughout the journey including creating our own water chants!
Dance will be woven throughout our time together.
Heartwood Retreat, BlueRidge
Heartwood Retreat sanctuary is gorgeous space immersed in nature. Located 1 -1/2 hrs. from the city of Atlanta, 8 miles from the mountain town of Blue Ridge.
There are 80+ acres to walk through, a swimmable spring-fed lake,  a hot tub, a sandy beach, outdoor eating areas,  music stages,  gathering decks,  creeks and hills in one of the most bio diverse regions in the world. Each woman attending gets her own private room.

Included
3 nights, 4 days Accommodation
All Organic Vegan Meals
All Experiences
NOT INCLUDED:
You must arrange your own Transportation to and from the Retreat
THIS EVENT WILL SELL OUT.
$296
Pay 1/3 monthly for 3 months
I want to make sure it feels 100% in alignment for you to attend and understand it's a time & energy commitment.
If you are feeling called, but have questions please email me at Aloha@DakotaChanel.com
Money is a form of love. A form of currency (current sea). By choosing to pour financial flow into this experience, my intention is that it comes back to you amplified beyond your wildest dreams. That through this investment in yourself, you emerge from the retreat with your chalice overflowing. Empowering you to show up ever more fully as the creatress of your life in service to the waters within and around you.
WELCOME TO CHALICE
QUESTIONS?
Email Aloha@DakotaChanel.com
"I want to write you a thank you-letter. To express my deep, deep gratitude. For the retreat. For everything I found there, for who you are and what you taught me. For your beautiful and loving presence. And for your deeply inspiring connection to the waters. I feel so honored to have had the chance to witness that connection so closely. It was time for me to not only embrace the shadow-side of the waters that have taken so much space in my being, but to also allow her love to run through my veins. To accept that I am worthy of that love, that I am part of that love. That I am love….
I touched that feeling during the retreat. For the first time. That feeling of being loved, of being connected through love, of being worthy of love. From the very first moment we met, I felt so safe around you. I felt your authenticity in the way you approached me. That's what made me permit myself to really sink in. I have never felt myself being part of a group equally as loved, appreciated and valued as everyone else and now I have.
The way you held space for the group and introduced us to this true meaning of sisterhood is something that I'll cherish for always. It's exactly what I needed. Although there's still a path to walk, I can start to feel how I can serve the world even better if I allow myself to bathe in love.
How I not only deserve being loved, but always am being loved. Because she's always there. I am her. I am water. I am love. I am… No distant witness anymore. But part of the whole. You taught me. I let you teach me. The time has come to surrender to love…." Leen Joanna
Come Join Us!
Be held in the arms of the divine mother as we rest into the water & each other's loving embrace.