Water Priestess Retreat
5 day retreat in Greece, Spring 2020
Water Priestess Arts, Sensual Embodiment, Sacred Sexuality, Holy Sisterhood
We are Mermaids, Wise Woman & Womb Priestesses
Throughout the ages, there have been water priestesses, mermaids, water medicine woman, ladies of the lake, sirens and all aspects of woman as water.
These woman are called to consciously tend the waters of life
in their bodies and the world at holy springs, wells, rivers, lakes, oceans
Practicing ancient priestess arts such as baptism, anointing, scrying, water fasting, dowsing, sacred song, birth & sexual mysteries
And most importantly, the principals of
Divine Mother Love, Grace, Surrender, Compassion, Flow, Softness, Unity & Strength
♥
There is a Water Priestess within us all.
Calling us to remember the way of the waters of love.
This is an invitation to a convergence of woman who are committed to the waters of love. The womb of creation. To remembering the sacred arts of the feminine.
We are no longer willing to hide, play small, or abide by other's rules.
We are ready to Remember our Higher Potentials of Heaven on Earth through the Living Mystery School of our Bodies.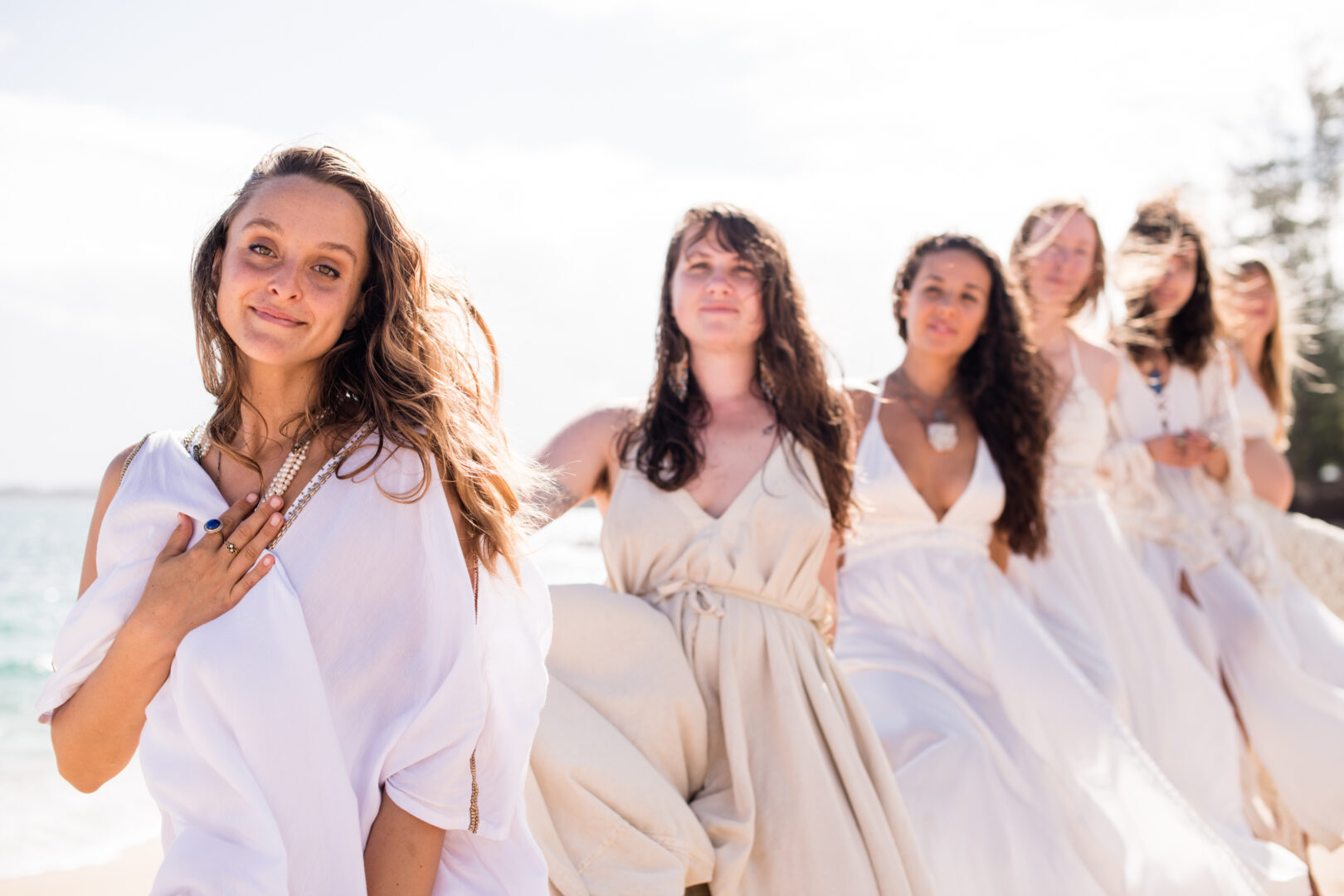 In my life, some of the most transformational, multidimensional experiences have come from being with sisters in the water and celebrating our sensuality. I've spent the past 5 years remembering the ancient arts of what it means to be a water priestess of love.
.
A mermaid of the magdalene.
.
This retreat is the culmination of my most powerful workshops, water priestess rituals and journeys to favorite sacred water sites on the island.
This in an invitation to gather and soften into the mysteries of the water priestess arts and sensual sisterhood.
.
~ Connect with your innate Body & Water Womb Wisdom
~ Deepen into your Sensuality through Sanctified Sisterhood
~ Learn Water Arts such as Water Scrying & making Holy Water
~ Share in Song & Dance to shift the Cymatics of our Bodies
~ Remember the Sacredness of your Sexuality & Nektars
~ Water Priestess Rituals at Powerful Water Sites
~ Purify your Body Temple through Organic, Local Food
.
The water reminds us how to connect with our feminine nature, shows us that coming alive is our most sacred offering we could ever give this world, and immerses us in beauty to share, what heaven on earth can look and feel like.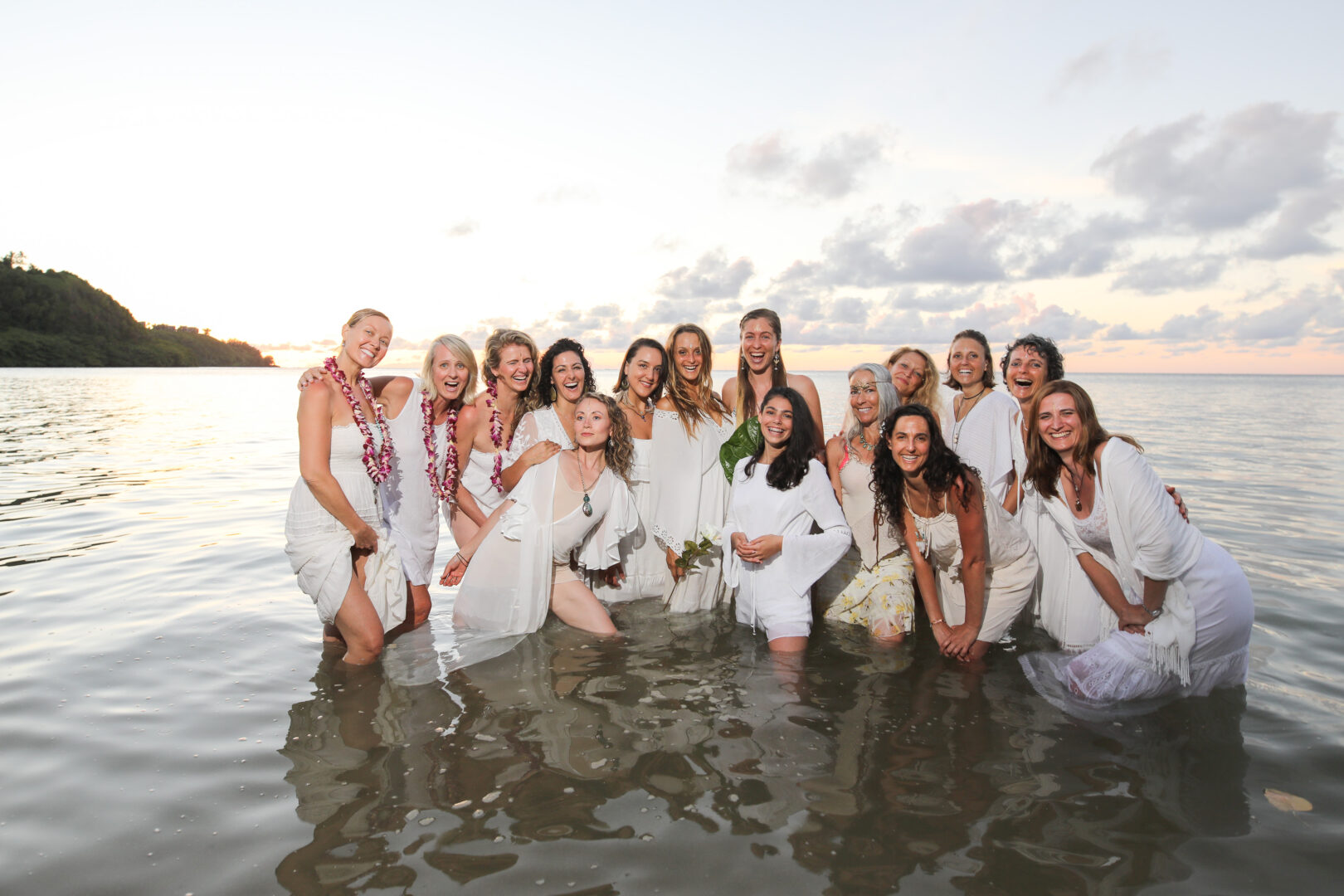 A Sensorium is a body temple tending that softens us into presence and love through the senses. We gather in groups of three to give and receive in 30 min intervals. There are Sensorium plates of rose petals, velvet, herbs, massage oil, essential oils, water sprays, chocolate, fruit, sea shells, feathers, tea, ext. There is no touching of the yoni allowed and breast massage is optional. The room become magnetic with heavenly love. We drop into the space of woman as goddess. Sister as me. Body as sacred. It is a gentle and nourishing way to heal sisterhood wounds, sexual trauma, body shame, anxiety, and more.
We will be doing both opening and closing water rituals, daily water communion, and holy water anointing. We will also be keeping a water altar for the duration of the retreat. These are powerful intention setting personal and collective prayers for the waters of our earth and bodies.
Baptism is far more ancient than Christianity. Variations of baptisms and water purification ceremonies have been used in pre-recorded cultures including the Temples of Isis, Aphrodite, temples in Bali, and other sites around the world. There is recorded documentation of many temple sites having permanent bathing style water structure remains. There are speculations about what they were used for, but based upon my own intuition and past life remembrance, they were for sacred ceremony. Including a form of "baptism" as we know it today. Water is life and used to be honored and revered at the forefront of spirituality.
We immerse ourselves in water almost everyday through showering or a bath to wash and purify ourselves.
Baptism is unifying the physical purification of water with the spiritual purification through intention & ceremony.
We will baptize each other anew as Water Priestesses in service to the waters of love.
We will be drinking spring water as the water we drink is the most foundational aspect of health. For ages, cultures have been built around the waters. It's time to remember that water comes from the Earth and honor this ancient connection.
This is a plant based retreat and our food will be prepared with love using 100% organic & as local as possible ingredients. Light fruit in the morning and two meals a day. We will also do one day of water fasting.
Get on the Waitlist for Next Year!
By application only.
QUESTIONS?
Email Aloha@DakotaChanel.com
"I want to write you a thank you-letter. To express my deep, deep gratitude. For the retreat. For everything I found there, for who you are and what you taught me. For your beautiful and loving presence. And for your deeply inspiring connection to the waters. I feel so honored to have had the chance to witness that connection so closely. It was time for me to not only embrace the shadow-side of the waters that have taken so much space in my being, but to also allow her love to run through my veins. To accept that I am worthy of that love, that I am part of that love. That I am love….
I touched that feeling during the retreat. For the first time. That feeling of being loved, of being connected through love, of being worthy of love. From the very first moment we met, I felt so safe around you. I felt your authenticity in the way you approached me. That's what made me permit myself to really sink in. I have never felt myself being part of a group equally as loved, appreciated and valued as everyone else and now I have.
The way you held space for the group and introduced us to this true meaning of sisterhood is something that I'll cherish for always. It's exactly what I needed. Although there's still a path to walk, I can start to feel how I can serve the world even better if I allow myself to bathe in love.
How I not only deserve being loved, but always am being loved. Because she's always there. I am her. I am water. I am love. I am… No distant witness anymore. But part of the whole. You taught me. I let you teach me. The time has come to surrender to love…." Leen Joanna
Come Join Us!
Be held in the arms of the divine mother as we rest into the water & each other's loving embrace.