Water Priestess Arts in the South of France
Join 16 other women from around the world for 6 days in France, near Toulouse.
The ancient lands of the Cathar and Magdalene.
April 19th – 24th 2023

Water Priestess Arts, Sensual Embodiment, Body Temple Tending, Holy Sisterhood
We are Mermaids & Womb Priestesses
The most pure divine feminine teacher that I know is the water.
Water. Not just a substance, she is the Divine Mother incarnate.
Without her, nothing living would exist.
The water is the root of the lineage of love. She is the primordial fabric all beings are woven from. She is me and she is you. She is the mirror of unity. The substance of polarity. The star in the story of the sacred night gone bright with remembering. She is memory.
Water as mother. Mother as love. Love as water. The spiral flows.
♥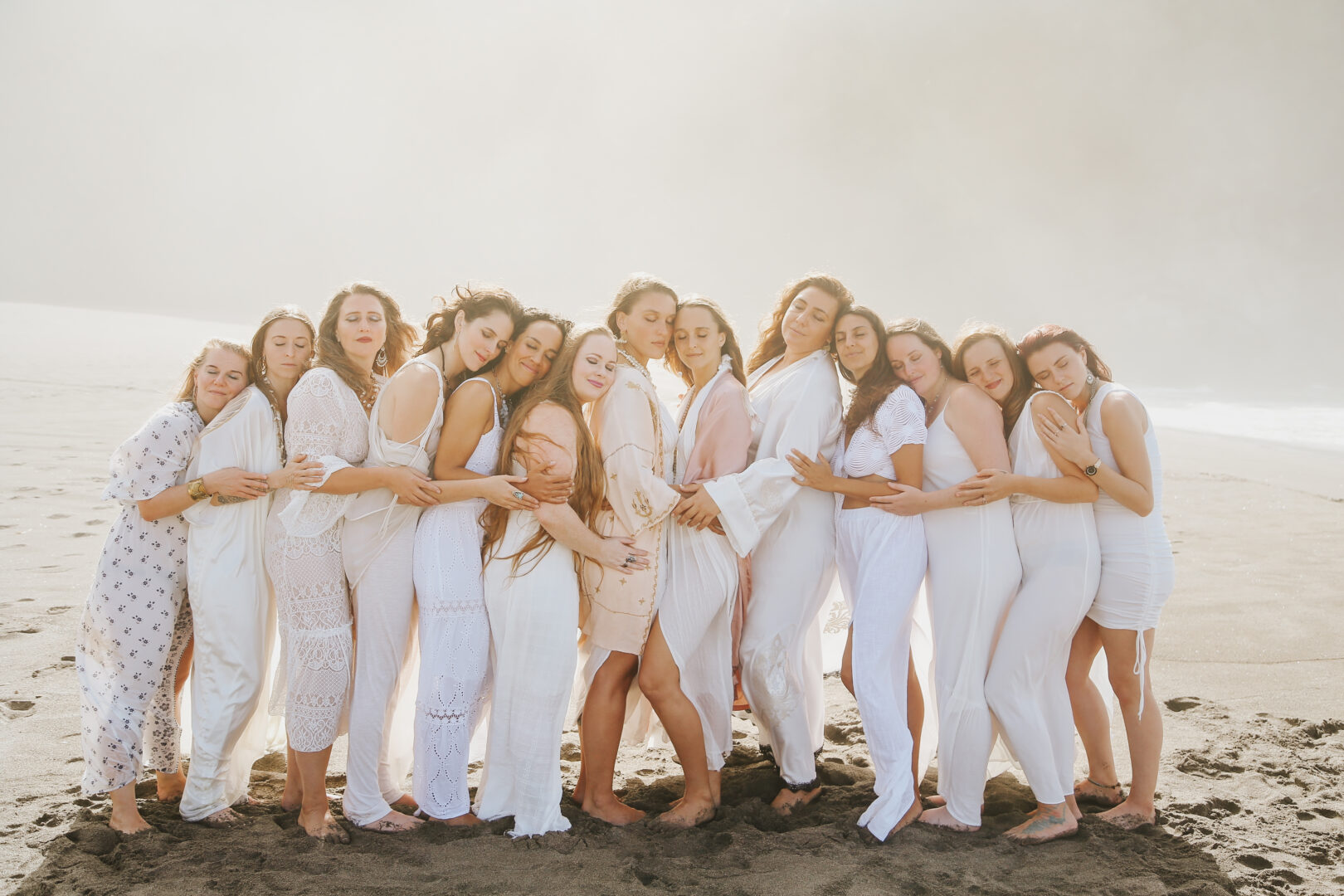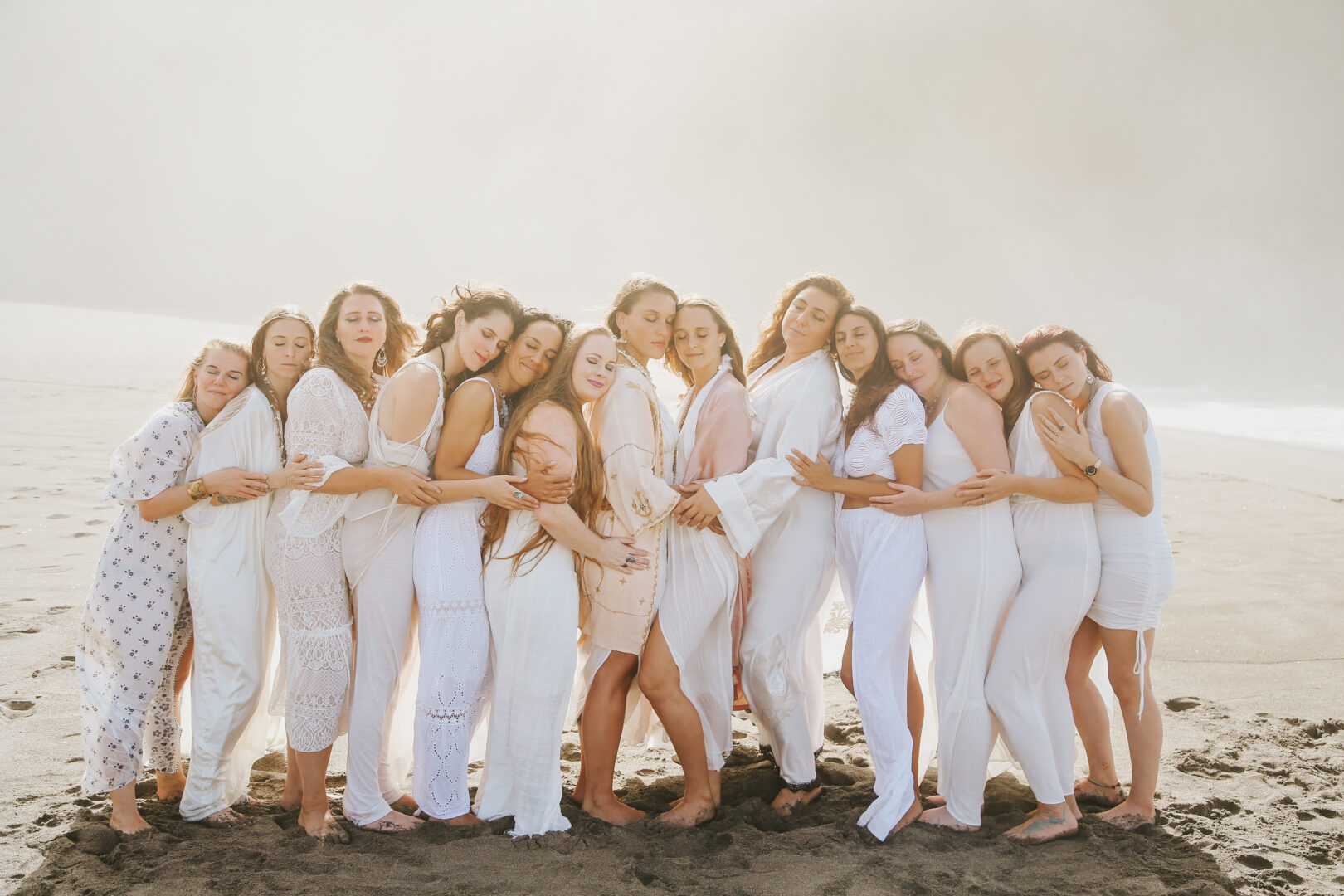 This initiation is a long awaited dream come true of mine to teach. It is a marriage of journeying to incredible sacred Magdalene & Cathar sites in France, with nourishing water priestess arts and temple ceremonies for depth and integration. We will stay at one gorgeous chateau the entire time, so we remain grounded. From there, we will drive up to an hour each way to various sites in the area.
IMAGINE THIS:
Hiking hours into the largest cave in Europe where the Cathars once hid escaping persecution and doing water & sound ceremony in the natural cathedral.
Praying & singing in my favorite sacred chapel that you've probably never heard of with a powerful leyline in undercover devotion to Mary Magdalene.
Climbing the Magdalene tower of Rennes Le Chateau, walking through Cathar towns & castles, and an off the tourist path church with a black madonna.
Soaking in pure hot springs, drinking "miraculous" spring water, communing at a salt water spring, and baptising in a holy river.
Doing nourishing temple rituals in our own private cathar castle.
Story time tea parties where you will learn about the incredible history of the Cathars, Mary Magdalene, and receive teachings from the Gnostic Gospels.
And so much more…
Dive into the legends and living legacy of Magdalene & the Cathars.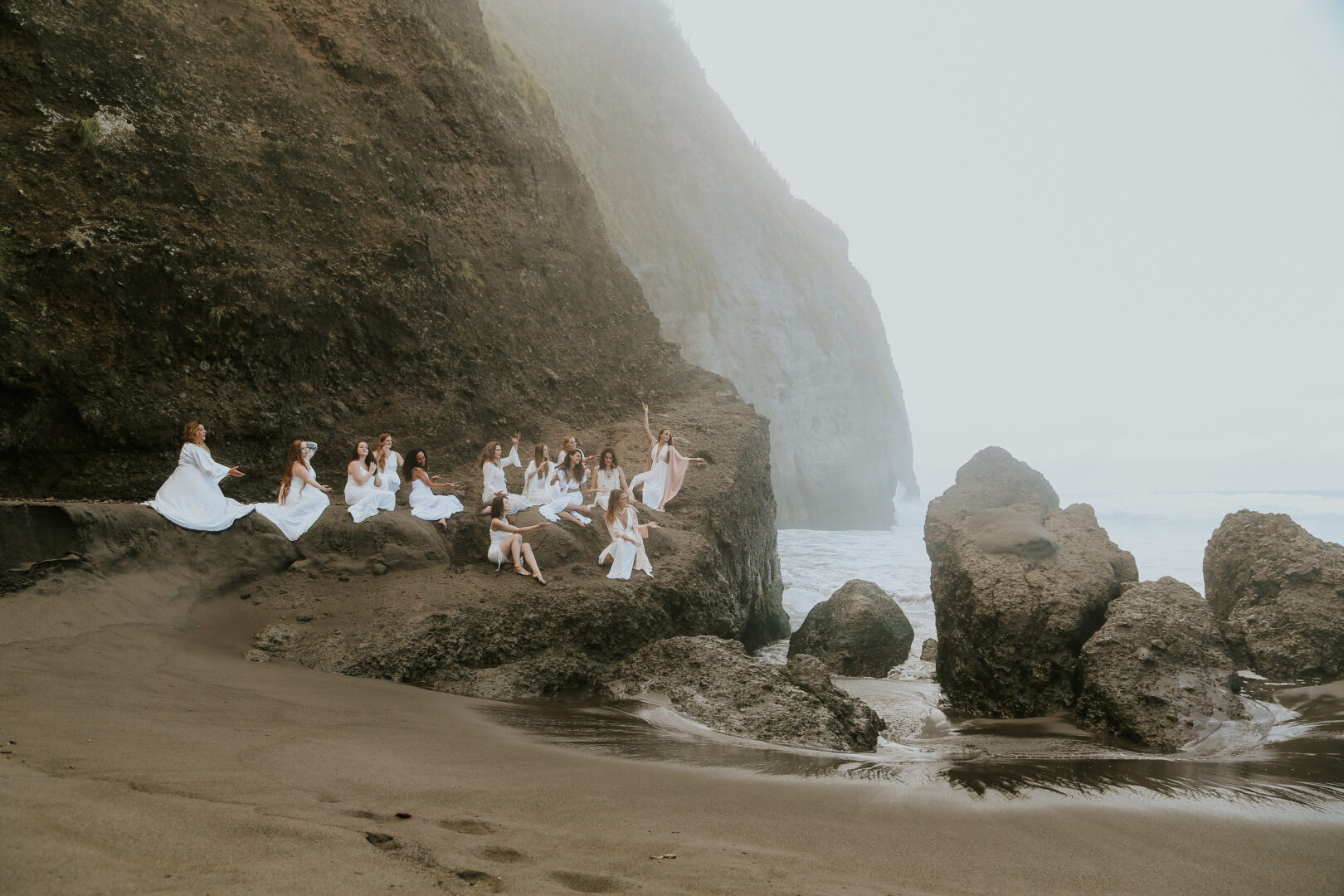 I am not calling this a retreat because we are not retreating from anything.
We are walking forward in remembrance.
This is a divine destiny meeting calling together a specific constellation of women.
The other day, I was in the bathtub dreaming into this journey, brimming with excitement and a full vision streamed through. The divine mother was clear that this is a gathering with a specific purpose. It was very long and esoteric, but I'm going to do my best to condense it as I want to be transparent with my intention for this Mermaids of the Magdalene journey, so you can feel with more clarity if it's in your highest destiny alignment to attend.
Our wombs are water portals that have the potential to birth heaven on earth. In the south of France, codes of light are woven into the land and waters. The lineage of love and the bridal chamber was seeded by Mary Magdalene and carried by the Cathars. You can still feel it pulsing alive today.
.
THE VISION
Deep in the ancient caves, a sleeping dragon guards a holy treasure. The dragon being the kundalini essence of women and the earth. The dragon being the guardian of the fully awakened star gate of the womb. It is time to honor the dragon and receive the cup of communion that is the holy grail that lives within. The birthright of women. The restoration of the chalice.
It is time to turn the pain of the womb & suffering of the past into pearls. 
We are being invited to activate the pearls in our wombs with the light codes that have been seeded in the lands & waters of the south of France to give birth to heaven on earth.
With a lot of love, an abudance of grace, and so much fun.
On the tides of water's pace we illuminate the true face of the divine feminine's infinite grace. Daughters of the most high incarnate into the water's eyes to seed into humanity the dreams of a new reality. To see clearly the heavenly love embodied in each cell. We rise up to hear the holy bell echoing in our wombs calling us to attune.
The southwest of France is absolutely enchanting. The land is rich and soaked in a lineage of love from Mary Magdalene and the Cathars. The land looks similar to Tuscany with rolling green and golden hills, yet there are also gorgeous dramatic mountains. It is a terrain that is abundant in natural beauty and sacred water sites. Endless churches and castles.
.
As a little girl, I wanted to go to France more than anywhere in the world. It called my heart and beaconed me. The first time I went 4 years ago was life changing for me. Last Fall, I had a very powerful dream telling me to travel to a specific place in France I'd never heard of and connect with the spirit of a Cathar priestess. I traveled there last month for a self guided Cathar & Mary Magdalene pilgrimage and finally found the places in France that I'd been waiting to discover since I was a child. I walked those lands and felt them not only in my blood as ancestry, but in my spirit. Finally remembering the fragrance as wet candle lit caves, wild blooming rosemary, and golden love. I discovered places without proper directions off the tourist trail that are some of my favorite places ever.
.
In the 1200's the catholic church launched a crusade against fellow christians who were considered a threat to the pope's rule. Killing between 200,000 to a million people in what is known as the Albigensian Crusade mostly in the south of France and northern Italy. These people are referred to today as the Cathars, but they referred to themselves as bon homes, good people. I believe they carried and some still carry to this day the true teachings of Mary Magdalene, who escaped to France after the crucifixion. They were such a threat to the catholic church that they were hunted, so the lineage of love went underground. Literally.
.
Now we are in the time of the fulfillment of the prophecy. The laurel is turning green again.
.
I am honored to bring you on a similar pilgrimage
.
PLACES WE WILL GO:
Foix
Lombrives Cave
Montsegur Mountain
Black Madonna Church
Minerve
Miraculous Spring Water
Magdalene's Baptism River
Isis's Throne
Rennes le Chateau
Bulgarach
Rennes les Bains
Alet les Bains
A tastefully restored, gorgeous French chateau from the time of the Cathars is our home for the week. Enchanted and magical. It will be our anchor and grounding pillar through all our adventures. It is private on 10 acres with a pool, chapel, and gardens.
The largest cave in Europe and the sacred refuge of the Cathars welcomes us into the cathedral for ceremony. Caves are the womb of the mother. This place in incredibly sacred. We will have a private many hour walking tour and

learn

the fascinating history of the place before dropping into a deep ceremony and meditation activation in the huge cathedral room with incredible acoustics. A special surprise awaits.
You will experience all kinds of unique water workshops. There will be opening and closing water rituals, ritual washing ceremony, daily water communion, libations & water blessings for the land. We will be keeping a water altar for the duration of the retreat and visit sacred water sites.
A Sensorium is a body temple tending that softens us into presence and love through the senses. There are trays of sacred adornments. The room become magnetic with heavenly love. We drop into the space of woman as goddess. Sister as me. Body as sacred. It is a gentle and nourishing way to heal sisterhood wounds, sexual trauma, body shame, anxiety, and more.
We will have the great blessing of doing a powerful group baptism ceremony in the sacred river legend says Mary Magdalene used to baptize people in.
.
Baptism is far more ancient than Christianity. Variations of baptisms and water purification ceremonies have been used in ancient cultures including temples in Egypt, Greece, Bali, and other sites around the world. There is recorded documentation of many temple sites having permanent bathing style water structure remains. There are speculations about what they were used for, but based upon my own intuition, they were for sacred ceremony including a form of "baptism". Water is life and used to be honored and revered at the forefront of spirituality.
I have a deep love for Mary Magdalene. She is a powerful inspiration for feminine leadership in these times. Mary supported Christ in the resurrection through the ancient priestess arts of her lineage. We will share in a sacred foot washing, anointing and resurrection ceremony devoted to rebirth.
Magdalene walked the path of sacred union. To magnatize and maintain a sacred union partnership, we must do the deep work within our own beings. Doing this with a group of resonant women is especially powerful. There will be sacred union love code gems sprinkled throughout our time together.
We will practice the art of anointing through the lineage of the myrrhophore. There will be an abundance of high quality sacred essential oils that we will work with in ceremony.
We will incorporate singing & vibrational medicine throughout the journey. Hiking & dance will also be woven in our time together.
We will enjoy story time from some of the gnostic gospels. I will share legends and stories about Mary Magdalene and the Cathars.
.
We will also have tea parties. They are an amazing way to process and integrate after ceremonies, initiate deeper journeys, as well as a wonderful start to the day! Organic, sustainable, highest quality.
There will be opportunities to gather spring water at various sacred springs along the journey. Bring your own water bottles to fill up. At the house, we will drink filtered water.
This is a feasting celebration retreat when it comes to food. A nourishment of our taste buds and bodies in a rich and ancient way. The theme of our nourishment for the week is organic and as local as possible. The philosophy is to eat what nature around you provides. It will be mostly pescatarian.
"What we lived in the Water Priestess Retreat is truly beyond words.
Sisterhood, Love, Expansion. Divine Feminine, Union.
Heaven on earth.
The perfect time and the perfect moment.
The call was made, and we listened. The ones that finally were meant to be there, together.
It was magic every day, in every moment.
Dakota holds a very high frequency space, in such a harmonious, exquisite and femenine way.
For me personally, this retreat was a Big opening from my heart to fully accept who I am and step into my power to finally show it to the world in the most aligned way. For me this retreat meant to be truly between equals. Powerful women, sisters guided truly by love, feeling the Acceptance in the bottom of my heart. It meant to be in a space where you can truly be, share your gifts, surrender to whatever comes or happen, because we were holding each other in such a beautiful way, that all the resistances simply were pushed aside. It was a blessing. A gift.
The most powerful activations I have had in my life. Really changing the codes. Really letting yourself simply be, and letting your true self to reveal. This retreat has been life changing. There are no words to describe the huge feeling of blessing, gratitude and love that is in my heart everytime I remember the experience, everytime I think how grateful I am for having met all my sisters, and for all the blessings and activations that were received those days."
"The Water Priestess Retreat held and
transformed me in ways I could have never seen coming
.
Dakota holds a frequency of pure unconditional love, powerful innocence and ancient wisdom. Everything that is not that is innately invited to emerge in the safety of the container to be alchemized.
This allows for a deeply healing sisterhood experience, where every sister is equally celebrated in her true essence and honoured in her power.
I've had a pattern for as long as I can remember of feeling deeply inferior in the presence of powerful beings and doubting my belonging in every group I have been a part of. For the first time in my life, I got confronted with the reality that this pattern is created by just a belief and that I actually do get to shift it, if only I choose to surrender to the greater truth.
The retreat quite literally flowed like water. Dakota embodies the feminine in a truly graceful way, and – can fiercely mission her masculine into upholding the unshakable container that allowed 14 women to drop into the depth of their being.
I have never felt as safe in my body as I did at the retreat. I felt a bit shy knowing there would be practices involving physical touch and minimal clothing. But when the time came for them, my consciousness got flooded with remembrance that cast out the fear. I knew we had been tending to each other's bodies in these ways for thousands of years. It felt right, invigorating and beautiful. I felt like my body could remember true joy for the first time in years. Remembering my body as holy and feeling every woman's body as that made it so that both giving and receiving in these ways felt like an equally great honour.
My relationship to water has shifted substantially. Learning some ways of the water priestess initiated me into feeling deeply connected to the waters of the earth and the waters within in a very new way.
I will continue to integrate this beautiful experience for a long time.
Dakota, deep bows for listening to spirit in such a meaningful way and thank you, thank you for all you embody, all you offer and all that you are.
Love love love
"I knew I was going to the Water Priestess Retreat at the second I opened the website.
Even through a screen, the powerful and magical energies of Dakota blossomed in my heart. Everything was calling me, the energy of the incredible island, the enchanted rituals that were offered and Dakota's light.
During the retreat everything became even more clear, it was not only a retreat, it was a divine meeting of 14 daughters of the water. A group of powerful and divine water sisters. Thank to Dakota, who holds such humble and beautiful circles with all her heart, a strong sisterhood was created from the beginning. I felt home, I felt safe and supported. We all had our place at this circle, we all had a purpose, sometimes being the one that fell down, sometimes the one that holds her sisters, activations and liberations happened in a perfect and magic flow.
Dakota is very dedicated in her mission, it is so obvious and beautiful to see her natural connection with the spirit of water, and she takes us easily into her magical world and connection.
During this retreat I experienced different deep moments of rituals, it was soft, divine and profound.
I loved this magical retreat. I recommend it to every women on Earth to connect with the element of water, source of life, source of women's pleasure. It can bring you into your deepest self, remembering your truest essence. And when practicing along with other sisters, it is even more intense and magical."
The Water Priestess Retreat was absolutely incredible, and life-changing. It was a discovery of the waters of the world and the waters within my being. The women that she attracted were the perfect blend to awaken parts in me that have been hiding just under the surface. At this retreat, I rediscovered my ancient Priestess self, saw my magickal abilities in a more profound way, and really felt into my personal codes and place in this world.
The temple space that Dakota created was exquisite and transformative. I learned so many tools and teachings that I will carry with me for lifetimes to come, and am forever grateful for this experience.
"I participated in Dakota's water priestess mystery school online and was blown away by the depths of wisdom I received via her course videos and zoom ceremonies and teachings. I was calling in experiences that were in alignment with Creating Heaven on Earth. When I saw her offering to do a live retreat in the Azores I was an instant yes!
What I experienced was far more magical, blissful, and life changing that I could have ever imagined. Dakota is the real deal meaning that her soul is in alignment for the highest good to flow through her. I experienced her as an angel living here on earth holding a sacred container for all woman to return to the truth of who they are. She holds a sacred container of beauty, love and infinite possibilities to flow through the moment. I believe it is the impeccable purity that also exists in Dakota's being that she attracts powerful woman who are also called by spirit to support the creating Heaven on Earth mission here on earth. I have great appreciation that Dakota and I crossed paths and was honored to participate in her retreat. I highly recommend this experience for anyone who is open to the miracles and healing that the water offers.
"Participating in the retreat was one of the most magical experiences of my life. Dakota leads with such humble grace, without any feeling of hierarchy and allows for each women's magical presence and medicine to shine forth. She is a true embodiment of the Divine Feminine and I felt so welcome and safe to be my authentic self, while being held in the most beautiful container throughout the entire trip. I loved every moment of this retreat and highly recommend anything Dakota offers and you can trust it will be full of magic!"
I was called to join Dakota in the Azores, for an epic gathering of the Water Priestesses. I had not felt called to work with other teachers for a long time, until I saw Dakota. She facilitated the training so graceful, effortlessly and
all she touches becomes a worship and celebration of beauty and divinity.
The frequency and exchange of ritualistic worship was delivered and channeled through her so beautifully & cleanly. Her heart radiates the golden krysted love of the new earth. Feeling so blessed to have found my sister of the waters and be able to receive her potent transmission, and create powerful work for the earth together.
"
I want to write you a thank you-letter. To express my deep, deep gratitude. For the retreat. For everything I found there, for who you are and what you taught me
. For your beautiful and loving presence. And for your deeply inspiring connection to the waters. I feel so honored to have had the chance to witness that connection so closely. It was time for me to not only embrace the shadow-side of the waters that have taken so much space in my being, but to also allow her love to run through my veins. To accept that I am worthy of that love, that I am part of that love. That I am love….
I touched that feeling during the retreat. For the first time. That feeling of being loved, of being connected through love, of being worthy of love. From the very first moment we met, I felt so safe around you. I felt your authenticity in the way you approached me. That's what made me permit myself to really sink in. I have never felt myself being part of a group equally as loved, appreciated and valued as everyone else and now I have.
The way you held space for the group and introduced us to this true meaning of sisterhood is something that I'll cherish for always. It's exactly what I needed. Although there's still a path to walk, I can start to feel how I can serve the world even better if I allow myself to bathe in love.
How I not only deserve being loved, but always am being loved. Because she's always there. I am her. I am water. I am love. I am… No distant witness anymore. But part of the whole. You taught me. I let you teach me. The time has come to surrender to love…."
Private Room w/ Private Bathroom
Private Room w/ Shared Bathroom
Double Room w/ Shared Bathroom
PRICE INCLUDES:
3 Meals a Day & Lodging Costs
All Entrance Fees & Transport
All Worshops & Adventures
DOES NOT COVER AIRFARE OR TRANSPORT TO/FROM AIRPORT
$800 non refundable deposit to reserve your space.
Payment Plans Available.
WHAT IS A MERMAID OF THE MAGDALENE?
I never resonated with the classic starfish in the hair, Barbie style mermaid, nor the dark fanged, lure sailors to their death version. There was something more mystical and sacred regarding my desire to live under the sea. That the mermaid essence I'm most aligned with in my heart of hearts is a vital part of my own feminine essence expressing itself on the planet at this time in human form.
Our essence (higher self, soul, ext) is always moving through our lives, pointing us toward things that feel aligned with who we are. And we are more than just Human. Our consciousness is currently experiencing itself by identifying with a body, but our consciousness is so much more. I know mermaids, faeries, dragons, phoenixes, elves, and all manner of combination of these things. Some people just don't seem as human as something else.
In my own personal mythology, I've always resonated deeply with the water. I've been told by many different intuitives that an aspect of my consciousness experienced itself as water in the beginning of this planet, that I'm a water naga (dragon), mermaid, and that I've lived under the sea. Honestly, I feel more at home under the water. If I could, I would move into a crystalline home on the sea floor and have dolphins and exotic fish as my neighbors.
I remember during the darkest times in my life, around age 15, when I went to the Caribbean and had an experience of complete soul embodiment standing in and staring at the sunlight dancing upon the turquoise waters. It was the most exquisite feeling of peace and precious perfection. Despite what was going on in my life, my essence still managed to shine through all the turmoil I was experiencing and the water acted as a trigger for remembrance. My relationship with the water has blossomed in that I no longer look at it as just a substance, but I see her as the elemental embodiment of the divine mother.
The water represents deep feminine wisdom, the principals of love, surrender, flow, shape shifting, purification, and trust. She is a being of profound Grace, of artful alchemy. When do I feel most aligned with these things? What gets me feeling all wet and oceanic? Mystical union with God.
My relationship with God (source, creator, ext) has always had a certain texture. A romantic, mystical Rumi quality, a special aliveness felt purest alone, either in my own sacred space or out in nature. This feeling stimulated not by modern belief system, but the deeper connection with the fabric of life itself. The wisdom of Love. Not a little love, but the big holy shit this energy is what created the whole universe kind of Love. I've come to realize that all of true life is an act of love making. The merging of the father (sun, light, electricity, fire, ext) and the mother (earth, matter, magnetism, water, ext).
As a little girl, I named everything Rose Marie. As I grew older, I realized that the lineage I feel most aligned with on this planet is the Rose line of the Christ/Magdalene energies. After high school, I started walking the path of the Beloved more consciously.
So how do Mermaids and the path of the Rose/Magdalen/Isis lineage relate? They both represent the return of the Divine Feminine, specifically the archetype of the Mother. It is an immersion into Love, Grace, and Surrender.
Recently, I read a book called Mary Magdalene: The Illuminator. While I don't resonate with everything, a few pages were absolutely priceless. It revealed to me the connection between my love of the essence of the Magdalene energy and mermaids, right down to the etymology.
To begin, it's helpful to note that Mary was a title used for priestesses of woman who considered themselves brides of God, specifically David kings. This makes sense when you consider the virgin Mary and Mary Magdalene.
In Egyptian, the word is derived from Mry "beloved" or Mr "love". Mer, Merry, Marry, Mary, Marie, Miriam, Meru (indian for yoni, navel, womb, center) are all closely related. Mar in many languages also means Sea. Mary Magdelan was considered a fish goddess. This makes complete sense because the water is the elemental essence of the divine feminine. The Mer aspect of Mermaid means beloved, love, or sea, so what does maid mean? On the surface, maid means servant or in service to. However, another meaning is a virgin. By virgin I do NOT mean not having had sex. A virgin is an energetic state that feels pristine, innocent, and pure, which are all elements that can be and hopefully are felt when making love.
So what is in the name Mermaid?
A pure woman in service to the sea of love.
I cannot think of a more beautiful mission statement for my life.
We are in the time of the mermaids, the Age of Aquarius and the return of the Divine Feminine. Mermaids represent what we need to return to if we hope to evolve as a species instead of go extinct. They symbolize immersion in the elements, connection with the cosmic womb, deep alignment with the Divine Mother, beauty, grace, love. The same thing that the energies of the Magdalen represent to me.
I am in service to the Sea, to the Divine Feminine, to Love. This is what it means to be a Mermaid of the Magdalen. I dedicate my life to living in alignment with the truths that the water whispers sweetly to my soul.
Retreat Photography: Natalia Dunne and Rachel Crane